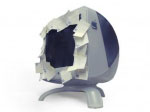 The Quality and reliability of our product are of prime concern.
We distribute only high quality products made from material that cope with the daily life of professional photographers.
In the unlikely event a fault appears or a product gives cause for a reclaimation, please fill out the guarantee form.
We will attempt to resolve this as quickly as possible. Please accept our apologies for any inconvienence.
Yours, Matthias Rehberg